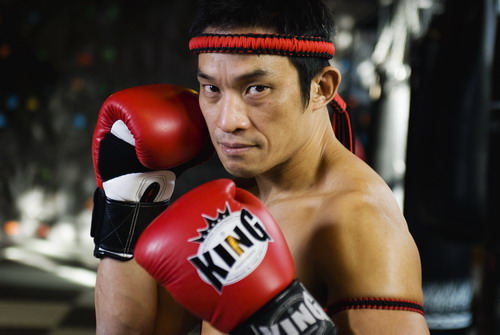 Battlefield X1: Supremacy is a martial arts exhibition with a charitable twist. With ten bouts featuring fighters from around the world, and two championship belts on the line, the event will raise money for the China Children and Teenagers Foundation – all proceeds from Battlefield X1 will be donated to the charity. World Lightweight Muay Thai Champion Vince Soberano spoke to Stephanie Gillett about his long career as a Muay Thai boxer and gym owner, and looked forward to his cage fight at Battlefield X1.
What inspired you to become a Muay Thai fighter?
When I was 10 years old, I was frail and sickly. I was terrible at sports and very uncoordinated. Then I watched a Muay Thai event at Lumpinee Stadium in Bangkok. I knew right away I wanted to be a boxer. How long have you been fighting? On and off for 20-plus years.
How has the world of Muay Thai fighting changed since you started your career?
A lot has changed in terms of the quality and training of fighters, but the traditions remain the same. Many competitions around the world are based on Muay Thai, but the rules have been altered. However, when you watch the bouts, the grounding in Muay Thai is still apparent.
What has been the most memorable moment of your career so far?
Winning another world title fight in Thailand at age 43.
Who was your most challenging opponent?
A Thai fighter [who I fought] at Rajadamnern Stadium. That was my most challenging fight, because I was underweight and physically smaller than my opponent.
What is the craziest thing you have ever seen happen in the ring?
Two fighters knock each other out at the same time!
Have you ever fought in a cage fight before?
Yes, back in 1996 I fought Mixed Martial Arts (MMA) bouts in the US.
How will your strategy in the cage at Battlefield X1 differ from a traditional ring match?
When fighting in a traditional ring, I can lean back against the ropes and still be at an advantage. In a cage, it's dangerous to get trapped and pinned against the cage, so I'll have to keep moving laterally to keep that from happening.
What do you do to gear up for a match? What is your routine?
I just make sure I get plenty of rest and sleep the day before the fight. I also eat lots of carbohydrates to store energy. Other than that, I just take it easy and keep a positive attitude.
How and why did you become involved in promoting Muay Thai in China?
When I first came to China in 2005, I saw the opportunity and the need to promote authentic Muay Thai. There were a lot of clubs that advertised Muay Thai classes but weren't anything close to real Muay Thai. When I gave a Muay Thai seminar at Powerhouse Gym, at a friend's invitation, more than 50 people showed up. So many people were interested in the fighting style that they literally begged me to start teaching in Beijing.
How has Muay Thai been received in China?
Thanks to movies like Ong-bak, Muay Thai is regarded as a very popular and very exotic fighting art. It's also considered a truly exciting fighting sport, thanks to competitions such as K-1. When I started introducing Muay Thai in Beijing, I also presented it as an effective and fun fitness system.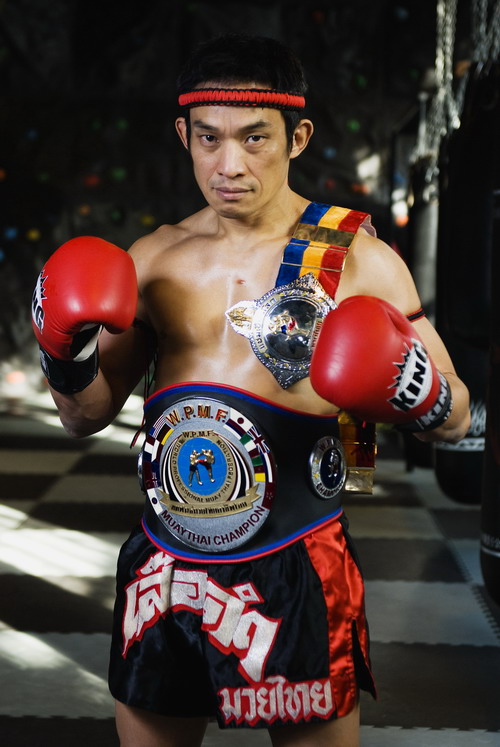 And how do you plan to enhance Muay Thai's success in China?
[As I mentioned,] my kind of Muay Thai in China is not just a martial art and fighting sport, but also a fitness system and healthy lifestyle. My gym is not just a gym – it's also a club and a community. People join Black Tiger not just because we teach Muay Thai, but also because we are a quality brand. We are Black Tiger Muay Thai – a lifestyle.
With my new company, Hero Entertainment, we are promoting Muay Thai in our big show, Battlefield X – a series of world-class championship fighting events that use full Muay Thai rules and follow traditional Muay Thai ceremonies. This is not just a regular combat sport event like boxing and MMA, it's also a cultural event because it is laced with traditions practiced for hundreds of years in Thailand.
How long do you intend to continue fighting?
I stopped answering this question two years ago, after I came out of retirement for the third time in my life. I guess the answer is that I don't really know anymore. I'm just having so much fun that I don't want to think about stopping now.
Battlefield X1: Supremacy takes place November 11 at the China World Hotel Conference Hall. For more information, visitwww.blacktigerclub.com. RMB 600-1,200, RMB 400 (ladies), dinner and wine included. Tickets at 8706 1940, 8656 7818 or e-mail chinafighters@gmail.com. 6pm (venue opens), 7pm (start). China World Hotel, 1 Jianguomenwai Dajie, Chaoyang District. (6505 2266) 朝阳区朝阳区建国门外大街1号中国大饭店2层
Beijing Black Tiger@Club Hero
Mon-Fri 8am-9.30pm, Sat 10am-6pm, Sun noon-6pm. Suite 110, Bldg D, Cable 8, 8 Langjiayuan, Jianguo Lu (west of Wanda Plaza), Chaoyang District. (8706 1940, 8656 7818, 8918 3249, 6581 5570) www.blacktigerclub.com 朝阳区建国路万达广场西侧郎家园8号尚8创意产业园D座110